Tuesday, July 11, 2017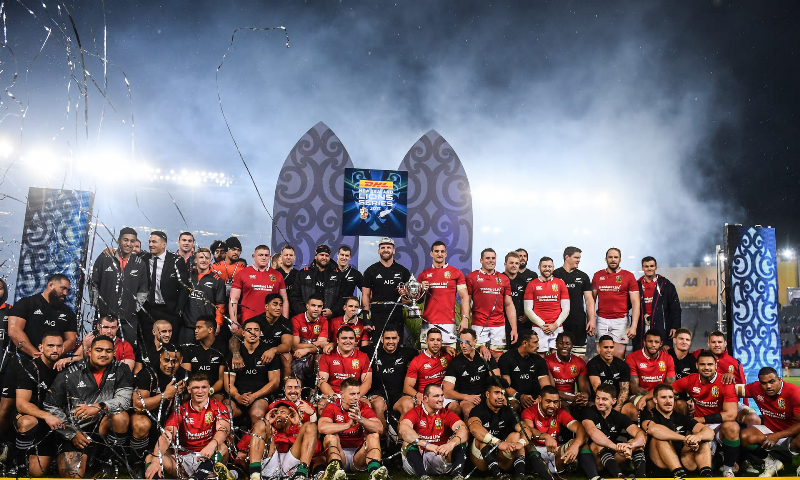 An unlikely, drawn British and Irish Lions tour in New Zealand inspired another blog about team ethics and more, by Steve Hutin, the managing director of Rope and Sling Specialists Ltd.
It's been three days since Owen Farrell kicked a 78th minute penalty to earn the British and Irish Lions a 15-15 draw in the final match of the New Zealand tour, meaning the sides also drew the three-game series, which was locked at one apiece going into the decider. Ice-cool Farrell never looked like missing. It was only about 10 o'clock in the morning here in the UK but pubs, bars and sports clubs were packed with relieved fans nonetheless.
The result left some supporters of both nations feeling empty, as if weeks of blood, sweat and tears (literally) had failed to produce a victor. True, there were no scenes of jubilation or celebration. However, I found it refreshing in that it gave rugby and sports fans the opportunity to celebrate other successes yielded by one of the toughest tours on the planet. Instead of the usual heroes and villains script that people follow after such an event—where some are lauded and others chastised—we're focussing on teamwork, sportsmanship, the unexpected, and the theatre of rugby union. That's a victory in itself.
The point of talking about it here is once again to extract from three bruising encounters, and the warm-up matches that preceded them, the lessons we can take into the lives of mere mortals and our businesses. One in particular stands out: given that the All Blacks are the best team in the world and train together on a regular basis—many have played on the same side for years—imagine how important it was for the Lions to achieve a sense of spirit and togetherness.
The weakest link
Fifteen men, and many others on the bench and in the support team, had to put their bodies and careers on the line for the collective cause. If one man slacked off or bottled a tackle, the home side would have ruthlessly exploited it and everything the Lions had been training so hard to achieve would have been left in tatters. Once that weak link had been identified it would have been targeted over and over again until the offending player was hauled off the pitch. By then the damage would probably have been done.
It's the same in a place of work. Imagine if a lifting and rigging company was submitting a bid for a big tender. It was an all hands to the pump job and, say, 15 members of staff all had their own areas to research and price up. Imagine if one of them neglected to show the process due respect and guesstimated the data they put on the paperwork. Nobody'll notice, they thought.
The tender is eventually submitted and everyone awaits news, fingers crossed. Despite the fact that 14 people had diligently, painstakingly read the tender criteria and provided strong information, they've got no chance of winning because the other member of the team has pitched for the wrong slings and shackles.
The inevitable bad news comes and an inquest ensues. By then the winning company, who also might be a team of 15, but one where everyone pulled their weight, have instructed the manufacturing team to get cracking. Two new employees have been recruited as a result; team ethics featured prominently in their interviews.
Head rush
There was an example of this to some extent in the second match of the All Blacks tour in Wellington. The Kiwis had won the first game, meaning the Lions had to win to keep the series alive. New Zealand's Sonny Bill Williams was red-carded, after video replays, for a moment of madness 25 minutes into the contest, handing the initiative to the travellers.
His reckless, dangerous shoulder charge on Anthony Watson saw him clatter into the opposing player's head. The Lions went on to win 24-21, while Williams was given a four-week ban. Nobody can say what would have happened if he'd have stayed on the pitch but he undoubtedly cost his team dearly.
In terms of Lions tours—they only happen every four years when Australia, South Africa or New Zealand are our hosts—video technology is a new concept. The replays clearly showed Williams' offence and the officials made the right decision. It'll be interesting to see if the All Blacks continue their global domination in the technological era as many say their physicality goes too far at times, but retribution has not followed. That might change. When the Lions applied physical pressure, particularly in game two, Kiwi feathers were clearly ruffled.
Rugby, particularly the Lions tour, can teach us a lot about decision making, not just in terms of keeping one's head under pressure. I'm sure many New Zealanders are saying their team could have won Saturday's game if they'd have taken their chances in the early exchanges. It's the same in business; there are many sliding doors moments every day where the choices leaders and their staff make have consequences, good and bad, that cascade through a company.
Train hard, win easy
Practice, training and preparation are equally important on Lions tours and in the rigging shop, indeed, in most other places of work. We constantly conduct in-house training here at Rope and Sling to ensure the team is as well rehearsed and educated as possible. I'm not sure I go along completely with Lions tour manager John Spencer, who said we'd have won with another week's preparation in New Zealand, but the point carries some weight. Whether one accepts his argument or not, the value of training and team planning is beyond contestation.
Without great leadership from head coach Warren Gatland, who is actually a New Zealander, and captain Sam Warburton, from Wales, the Lions would have been as doomed as a company with a bad CEO and equally inept supervisor. Imagine a contract lift with a bad appointed person; the consequences could be disastrous.
I think the media could have better recognised, first, Gatland's contribution and, second, the importance of backing him when his Kiwi roots meant local journalists and rugby fans were hostile towards their countryman. I certainly hope he will be in charge when we tour South Africa in four years. I also thought Maro Itoje was titanic throughout the tour, living up to his nickname of Super Maro!
Hypothetically, if the Lions concept was replicated in the below-the-hook world, where a dream team (business) was created from all the relevant companies in the industry, I'm confident many representatives would be from Rope and Sling, which was apparent at last week's managers' meeting where I heaped praise on our team and the level of technical expertise that we are able to offer our customers from all of our six depots on a daily basis.
How many people from your company would make your industry or sector's 'Lions' squad?
Engage with us on Twitter at @RopeandSling #RopeandSling
Steve Hutin
Managing Director
Rope and Sling Specialists Ltd