Tuesday, June 25, 2019
Intuition plays a big part in successful collaboration, says Steve Hutin, the managing director of Rope and Sling Specialists Ltd.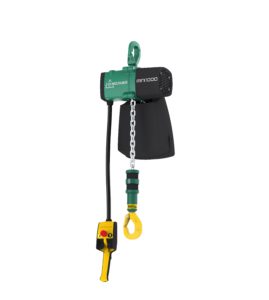 The business has been in the spotlight recently, following the announcement that we will distribute JD Neuhaus's (JDN) new range of Mini air hoists. We will stock the product, manufactured in Germany principally for use in extreme environments, at two of our six UK facilities in Pyle, Wales and Grangemouth, Scotland.
I want to reflect on the journey and share some pointers on how others might approach similar opportunities.
Sixth sense
The biggest piece of advice I can share is to trust one's gut. There is much debate about how many senses a human being can utilise. Some say we're limited to five (sight, hearing, smell, taste, and touch), others list as many as 20. I don't want to get into a discussion about that but it's true I've relied on gut instinct as my sixth sense throughout my business career and personal life. If I have a bad feeling about something, or someone, I become nervous about further exploration.
Consider the power of excitement, nerves, and fear. To me, they're emotions that come from the gut; they're not the result of reasoned thought or deliberation. Often, such feelings are sudden and unexpected, but they stand us in good stead. I'd never condone rash decision-making, and I'm not saying a gut reaction has to be final, but it should serve as a marker, at least. In other words, if something feels right, let's try to find supporting evidence that it is, and then proceed.
I remember the first conversation I had about a prospective JDN partnership. Davey Walker, our business development director (Scotland), had been in dialogue with Steve Walker, managing director at JDN UK Ltd. If at that point, intuition told me to be cautious about the opportunity, we probably wouldn't be where we are today. As it was, I remember feeling good about the prospect before I'd even engaged in a spot of conscious reasoning.
I trust Davey's judgement too, which was important, and felt I could work well alongside Steve. Again, without such trust in place we wouldn't have taken steps forward. Personal relationships are underestimated in business. I've heard of people entering partnerships who don't really see eye to eye. They assume that the larger company, brand, or product is more important. To some extent that's true—Davey, Steve, and I are comparatively insignificant—but without trusting each other, we'll fall short of the partnership's potential.
Cautious optimism
While we're all optimistic in business and envisage successful outcomes, a tactic I use when assessing individuals I'd like to partner with is to imagine our chances of finding a positive outcome if something should go wrong. I ask myself, what would a person be like in the dressing room if we were 2-0 down at half-time? What would they say about me if I weren't in the room? Would they stand as close in the trenches as they did on the podium? I've never entered a business arrangement with someone I'm not 100% confident in—and nor should you.
The product or service has to be right too. I wouldn't back the most astute, driven, morally sound team in the world to make a success of a chocolate teapot company. In JDN, for example, we're distributing a product that is well renowned the world over. The company's museum at headquarters in Germany documents the 270-year-old tradition of the business—to lift and lower, to pull and to move loads.
Assured of the people and the product, we moved onto the next phase with great confidence.
It's worth considering what a new partnership does for the reputation of a business. Put differently, what does it make the company look like to existing and prospective customers? Not every good company can sell a good product; it might not represent a good fit, or it might create a conflict. We knew in taking on the Mini—available in capacities of 125kg, 250kg, 500kg, and 1,000kg—that we would gravitate towards becoming a wider lifting equipment company versus a below-the-hook or rigging business. That meets with growth strategy but such a step wouldn't have always been right for us with investment in other areas of the business.
That's why anyone looking to collaborate or add to a portfolio must ensure they prepare for the likely outcomes. This can be as simple as making sure enough stock of the new product range can support orders, but there's also the knock-on impact to consider. For example, how might adding such a technologically advanced product for extreme environments to our portfolio generate demand for our existing range? What other equipment might we need to store as we engage new buying decision makers? How will it impact personnel?
American dream
It's timely to reference Sean Maslen, a regional sales manager here, who joined me in a delegation that visited JDN USA's offices in Baltimore, Maryland in mid-June to mark the launch of the Mini to the North American marketplace. Also present was Steve Walker and stateside distributors. Sean will be the point of contact for many customers on the new product offering so it was great to expose him to such an enlightening week, where training and networking accelerated our learning way beyond what was possible had we not attended. Even in a world of digital conferencing, the continued importance of face-to-face contact shouldn't be underestimated.
I'd advise anyone about to embark on such a trip, or even a local visit, not to approach it with blinkers on. By that I mean, don't isolate it and limit learning opportunities. Being open-minded, Sean and I were able to learn a great deal more than the product's near field communication (NFC) sensor and accompanying app, for instance. The way JDN USA treated its distributors was inspirational; it refers to them as "ambassadors", which immediately inflates their worth and importance. We can also take a lot from the general efficiency of the operation, and I plan to implement certain practices at our facilities.
Of course we have the necessary documentation and procedures in place with JDN, but it's the strength of my handshake with Steve Walker that counts the most.
Air hoists at LiftEx
Since my last blog, we've communicated to trade media that we will have a high profile at this year's LiftEx, underpinned by gold sponsorship of the event, as organiser the Lifting Equipment Engineers Association (LEEA) marks its 75th anniversary. Rest assured that our new JDN partnership will be a focal point of our exhibit (Stand 38), at the Marshall Arena, Milton Keynes, where the show returns on 13-14 November.
Thank you for reading.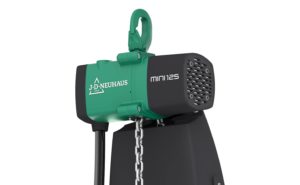 Steve Hutin
Managing Director
Rope and Sling Specialists Ltd
[email protected]