Tuesday, April 26, 2016
Rope and Sling Specialists Ltd (RSS) has completed load tests on a new 5t capacity overhead crane at a Lee Tunnel Thames Water site in Beckton, East London.
The crane was installed at MVB Lee Tunnel Thames Water Site 4 by Reel Crane Services UK, a division of Reel UK. It is positioned above the main tunnel shaft at the major infrastructure project and will utilise 80m height of lift and 37m travel to remove debris from beneath.
RSS is headquartered in South Wales, but has numerous facilities across the UK. The London office managed a scope of work to complete dynamic and static load tests on the cab-operated crane, using water bags to create 10% and 25% overload situations, filling the bags gradually to reach the desired weights.
Graham Dawson, RSS depot manager, London office, said: "We had considered slab weights to complete the tests but access to the area was restricted by trenches that were being dug so they were ruled out as a viable solution. Additionally, the cost and environmental impact for transportation of the slab weights was far greater than the water bags, which fitted on one pallet."
The two-day job was completed by two RSS personnel and seven from Reel in the UK and their French operation, but Dawson said it wasn't without challenges. He explained: "Due to new installation of the crane, on the first day there were electrical complications. These were rectified ahead of the second day of testing but further onsite adjustments were necessary. Reel's French representatives required the static load to be held for an hour to test the crane brake, while its UK division also wanted us to carry out a deflection test."
A calibrated 10t load link load cell, shackles and slings were used from RSS stock, while the Water Weights bag was hired for the job. Following successful completion of the tests, the crane was handed over to Thames Water. Manufacturer Reel will provide service and maintenance.
RSS are frequent visitors to the Beckton site, conducting Lifting Operations and Lifting Equipment Regulations (LOLER)-related proof load and pull out testing up to three times every week. The site also has on hire Modulift spreader beams and other equipment from the below-the-hook specialist supplier.
MVB is a joint venture consisting of three of the country's leading civil engineering contractors—Morgan Sindall, VINCI Construction Grands Projects and Bachy Soletanche. The team is constructing the four-mile Lee Tunnel which will help prevent 16 million tonnes of sewage entering the River Lee each year during heavy rainfall. This is a result of London's Victorian sewers not being able to cope with a 21st Century city that has trebled in size and continues to grow.
Access to the crane at MVB Lee Tunnel Thames Water Site 4 was restricted.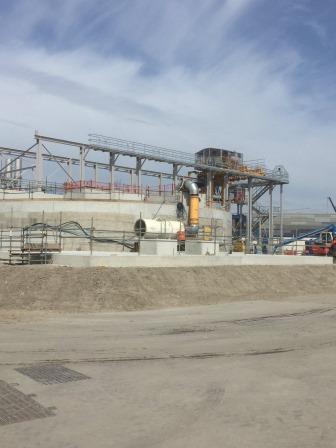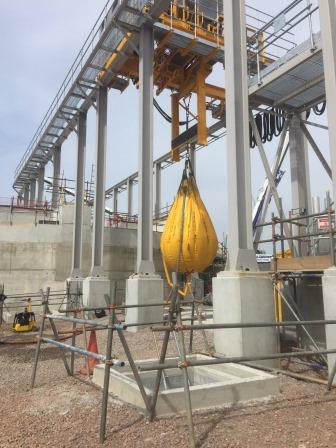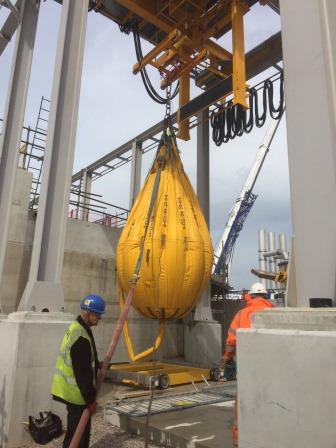 A Water Weights bag was hired to complete dynamic and static load tests on the cab-operated crane.