Friday, September 21, 2018
Rope and Sling Specialists Ltd. (RSS) has named lifting industry veteran Davey Walker business development director (Scotland), effective today (20 August 2018). Based at the company's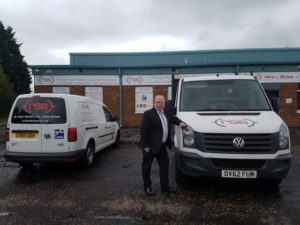 Grangemouth site, he brings 44 years of experience to the role, most recently from leadership positions at Speedy Lifting and its acquired business Lloyds British Testing.
Walker has already initiated a two-pronged offensive to grow business at the northernmost of RSS's six UK sites and continue to serve as a bastion for lifting equipment specialists. He is well placed to deliver on both fronts having successfully led half-a-dozen Scottish facilities for the last 15 years before accepting the new position.
In the first instance, Walker will look to leverage a vast contacts book to cultivate potential customers in the Stirlingshire vicinity and further afield, whilst looking for ways to better serve a diverse, existing customer base. It is anticipated that he will setup meetings with purchasing decision makers in the region's refineries, where lifting and rigging gear of all types and capacity is in widespread use in one of the country's most demanding end user marketplaces.
Walker said: "Over the years, I've been engaged in the provision of lifting products to almost every possible industry. I fully appreciate the scale of the task in hand to get onto approved supplier lists and earn trust in a brand name that will be new to some contacts, but it's worth playing a long game with the bigger picture in mind. I know RSS has the products and expertise to add value to oil refinery and other professionals."
Key to success, and the other side of Walker's bifocal approach, is the company's status as a specialist supplier of lifting and rigging equipment, as opposed to a diversified rental business or a tool hire firm that has expanded into the sector. He has been resolute in upholding certain values and standards to this end over more than four decades, and is confident that he is among kindred spirits at his new company.
Walker said: "I've experienced the various ways lifting equipment can be provided and serviced in the field, but by far the best in terms of value, efficiency, and safety, is when the equipment and supporting expertise is delivered by individuals and businesses that work exclusively in that niche. Through manufacture, supply, repair, testing, and inspection, the benefits to end users in working with lifting equipment experts are incalculable."
Walker's comments chime with those of Steve Hutin, the managing director at RSS. He said: "I always recommend an end user works with a specialist lifting equipment company on anything related to cranes or hoists. There are one-stop-shop hire businesses out there—plenty of them—that stock a variety of products, but far too many have a diluted pool of experience when it comes to lifting gear. And it's a mistake to approach the supply of any lifting-related product or service with a tool-hire mentality."
Hutin added: "I know Davey and I share this mindset in common; we believe in, and adhere to, certain principles before we apply business practices to them. End users embrace this approach and I'm excited about the dawn of a bright new era for the [Grangemouth, Scotland] depot."