Monday, March 20, 2023
The award was presented at a forum that brought together supply chain representatives that deliver lifting, loading, and unloading product and services to the project. RSS was one of four companies honoured at the event, which centred on sharing of information for continued improvement of best practices and supply chain safety excellence.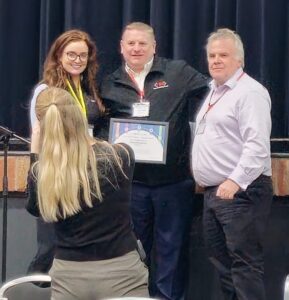 RSS provides a variety of lifting and rigging products to multiple locations. Every shackle, hook, sling, and harness provided is fitted with a radio-frequency identification (RFID) chip so it can be tracked and monitored on a smart device, which captures details of periodic Lifting Operations and Lifting Equipment Regulations 1998 (LOLER) inspections, also completed by RSS.
The award was part of the One Team Spirit initiative, which serves as a commitment for all parties to work collaboratively as one team towards a common goal, celebrate diversity, and recognise its people. RSS was commended for, 'Being reliable, diligent, and supportive of our programme demands. A number of times they have gone above and beyond to support us and keep the programme on track'.
Ian Despy, lifting manager and lead appointed person at SCS JV, said: "Our work centres on operation of TBMs [tunnel-boring machines], which must be operational 24-hours-a-day as ring segments are installed to form the structure of the tunnels. It is a constant process of taking delivery of these segments, placing them in storage, and transporting them underground for installation; we must achieve perpetual operation and can't afford downtime. Only with the support of a world-class supply chain can we meet these objectives."
He added: "RSS are our sole lifting tackle supplier because I know they recognise the unique demands of a project like this and will stop at nothing to make sure we have what we need to stay operational, while constantly adhering to the highest safety standards. I called on RSS at 7pm one evening recently and three vans were scrambled to different points of the country to make sure we had the equipment we needed the next day to avoid downtime. Very few companies can work to such demand."
Tony Teeder, major projects director at RSS, said: "We were grateful for the recognition at the forum but beyond that it was rewarding to be part of a collaborative effort that challenges everyone to strive for continued improvement. HS2 is a highly complex infrastructure project that brings out the best in its supply chain, which in turn drives best practice. We value the relationship with Ian and his colleagues and look forward to future meetings of the forum in the coming months."
Work at High Speed Two (HS2) Main Works Civil Contract for Phase 1 continues.