Thursday, September 10, 2020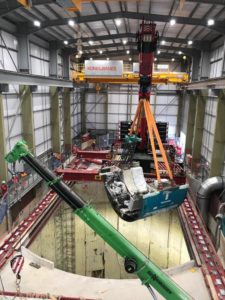 Rope and Sling Specialists Ltd. (RSS) supplied two 50t capacity JD Neuhaus (JDN) air hoists and other rigging gear to the CVB joint venture, which used it to lower a tunnel boring machine at the Tideway project in London.
The air hoists were used to balance loads beneath the hook of a Liebherr LTM 1350 mobile crane at Greenwich Pumping Station, where the boring machine was lowered down a shaft in parts before reassembly underground. The crane was positioned on a bespoke skidding system to allow longitudinal travel over the shaft. The hoists' heights of lift were adjusted according to the various size and weights of load.
Graham Dawson, RSS depot manager, London office, said: "This method proved easier than adjusting the sling length for each lift. The air hoists had an original height of lift of 9m but they were re-chained to 6m for the lowering operation."
Tideway is the company building, the Thames Tideway Tunnel, a 25km 'super sewer' to help prevent pollution in to the River Thames. The construction in the east region is being delivered by a joint venture of Costain Ltd., Vinci Construction Grands Projets and Bachy Soletanche (CVB).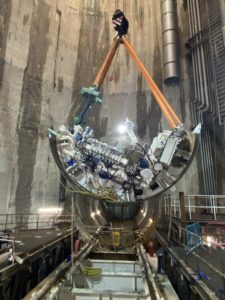 For this stage of the project, CVB was required to dismantle the boring machine at the Victoria Deeps Water Terminal (also Greenwich), then lift the parts and transport them to the pumping station, where they would be lowered. RSS was contracted to supply all required lifting equipment, including 17t, 25t, 35t and 55t shackles (six of each) and 50t capacity roundslings at 3m, 6m and 10m.
Dawson added: "The initial hire was for one week from the beginning of June, before we collected the air hoists from the site and re-chained them to 6m; they were delivered back to the site for a further two-week hire. The project was an example of different depots working together. Steve Hutin [managing director] quoted it and we coordinated to ensure the equipment was ready for delivery from our Aylesford depot without delay."
RSS has provided a variety of services to the CVB joint venture, including sales, hire, testing and periodic inspections.
RSS first teamed up with JDN in mid-2019 and has since offered its pneumatic and hydraulic hoists, crane systems, and components, manufactured at headquarters in Germany, principally for use in extreme environments. It had also added to the portfolio a product for lifting in areas that require ultra-cleanliness and hygiene, such as the food and beverage sector.